Decided to skip Britcon this year.
I can recommend the BHGS Challenge event. Easy to reach airy venue on the outskirts of Oxford.Good friendly atmosphere and competitive gaming. Flushed with near success at Britcon 2015 I decided to take panzer pioneers and mixed tankovy  to the mid war tournament ( the pioneers have never won a game but are cool – pity I got the list wrong). My delusions of competence soon evaporatee
Pionier deployment game 1 Hiding from 3.7in AA guns
Game 1 Fighting withdrawal   New Zealand Infantry Lost 6-1
Forgot people bring big toys to tournaments 4 3.7 in AA guns in the ground role on a ridge Gulp Assaulted on foot rode my luck against 25 per bombardment. Killed one platoon defending objective before matildas in ambush got me and my infantry died in a hail of 1s and 2s under bombardment.
He looks happy He's got 7 Panthers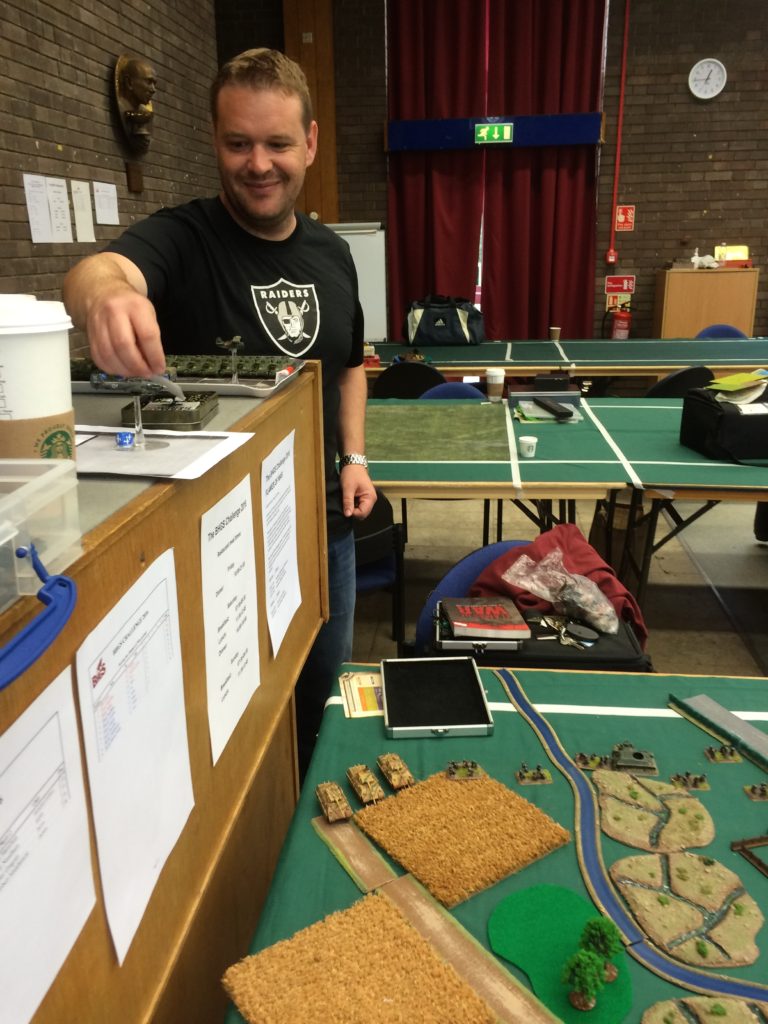 Game 2 Free for all Kursk Panthers  Lost 6-1
See above re big toys Needed a shturmovik  or artillery Got my heroic  T 70s on his objective before  my army broke in a hail of 75mm L70  fire
Game 3 Cauldron    American Paratroopers   Lost 4-3
That's a lot of yanks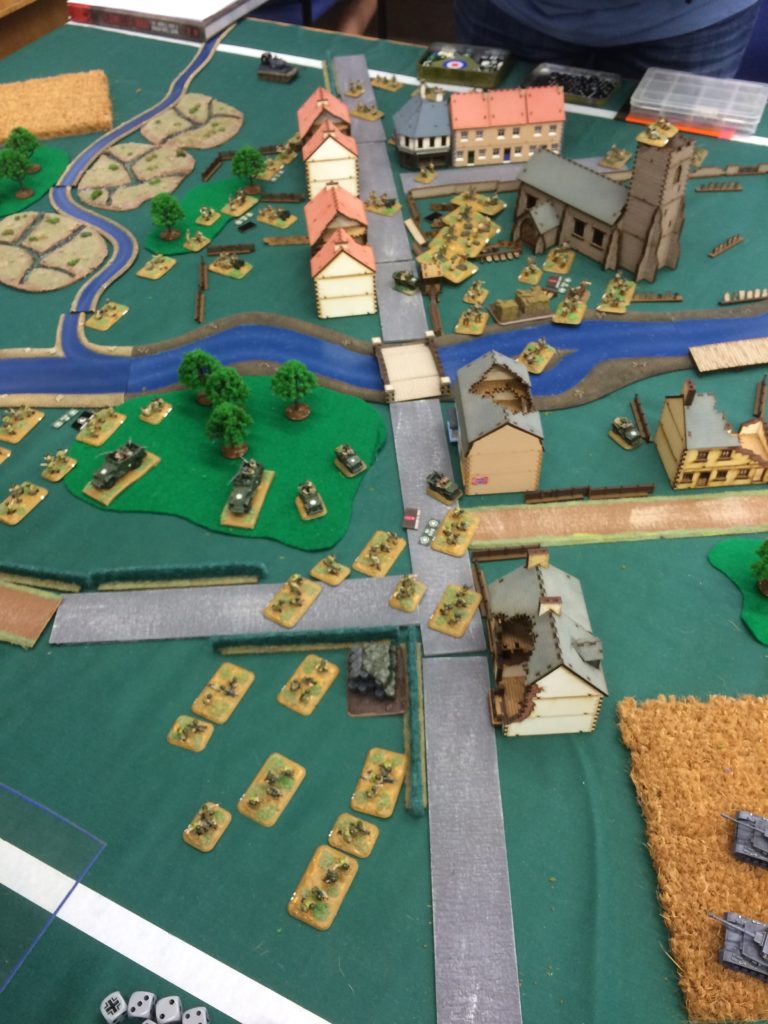 Decided to cruise on in my half tracks  and got half bailed or ko'd by howitzers and big mortars. Girded my loins and went again on foot after reducing the enemy mortars and guns. Killed  a platoon of infantry defending the objective and 3 other platoons not bad against america's finest dug in in a town Things were looking up
Day 2
Yes like a fool I came back for more
Game 4  Breakthrough German panzers   Lost 4-3
Hiding again this time from Tiger I don't think it's working
I could have had this lot if they hadn't bought a Tiger. Spent half the game hiding from the big cat Excellent shoot out between mark 4 s and 3 s on the left flanks which the matildas won  if we could have got one more mark 3 we would have been looking at a company test for the germans. In the end my last KV1 was on the enemy objective when his commander and 2 mark 3 s overran my gallant infantry in the churchyard
Game 5    Cauldron Russian Tankovy   Lost 6-1
Too many Russians to kill with my limited AT Got one company of T34 S with Hornisse and 88 fire . But my platoons had to scattered widely and the isolated depleted one got overrun by stuarts after a fierce dose of tanks fire Only one tank off maybe breaking the other t34 company so not all one way traffic
Excuses  , excuses,
The pioniers need more AT and more half tracks for the command elements and the tankovy need artillery or a shturmovik to play in competitions.
Great weekend All of my opponents were sporting friendly and fair – happy to allow rolls where phases were missed and knew the rules well I will be back next year with the pioniers.
Victory can do this to a man